PPP, PFI and MIM
Public Private Partnerships, Private Finance Initiative, Mutual Investment Model
We review and support the renegotiation of public sector contracts to make savings, including reducing the cost of complex PFI contracts.
We have helped 57 public sector organisations to identify over £1.2 billion in savings. We can help achieve efficiencies across a range of areas from contract management strategy, refinancing and savings reviews to benchmarking, market-testing and establishing regional contract management hubs. Our PPP and PFI specialist team helps increase the commercial skillset and contractual knowledge of public sector stakeholders.
We support the Welsh Government by providing the expertise to fulfil the £500 million of PPP projects included in the 21st Century Schools Programme, conduct stakeholder engagement programmes and support councils to deliver operational PFI savings.
In 2018 – 19 we helped our clients achieve:
Public Private Partnerships (PPP)
 We were an integral part of the project team leading research into alternative forms of financing public sector infrastructure, specifically investment- based crowdfunding for the Financing for Society project and the development of a Community Municipal Bond.
Private Finance Initiative (PFI)
 We supported central and local government by resolving contractual and operational issues, ensuring effective challenge to special purpose vehicles (SPVs), settling disputes, identifying, negotiating and implementing savings. We developed the commercial knowledge and skill set of the public sector advising on key contractual processes such as refinancing, benchmarking, market testing, contractual variations and termination saving the public sector over £13m through refinancing and negotiation of insurance disputes.
 The collapse of Carillion in January 2018 impacted a significant number of our PFI clients. Support continued in the 2018-19 financial year, ensuring continuity of service, replacement of shareholders and service providers as required. We worked with councils to ensure their SPVs are monitoring risks associated with their sub-contractor failure and have appropriate risk mitigation plans.
Mutual Investment Model (MIM)
We worked across the three projects that form the Welsh Government's MIM programme, leading the 21st Century Schools programme and providing commercial support to the A465 and Velindre Cancer Centre projects. In July 2018, the A465 was the first MIM project to enter procurement. The 21st Century Schools project will enter procurement in 2019-20.
For more information about what we have helped our clients achieve, see our 2018-19 impact report.
Local Partnerships' expert advice has helped us resolve a range of PFI contract issues. They identified savings within our projects and have supported us in their implementation.  Their commercial expertise is helping us get the most from refinancing our BSF projects and is delivering significant savings. These are valuable resources in the current financial climate that the Council is able to reinvest into its front line council services.
Ian Rooth, Head of Finance, Barnsley Metropolitan Borough Council
Local Partnerships' insight and knowledge on the PFI market has directly influenced how we've progressed with our PFI savings negotiations – in particular their understanding of the funding market has helped us minimise the risk of incurring potential costs by pursuing proposals that were likely to be considered unacceptable.
Andrew Gate, Commercial Services Team, North Tyneside Council
The Local Partnerships team has exceeded the original brief in providing very professional and effective support and advice in the review of two individual PFI contract provisions. The review team provided a comprehensive assessment that has the potential to offer further budgetary savings opportunities.
Jonathan Henry, Norfolk Constabluary
Our Impact 2018-19

To celebrate our tenth birthday we have launched our 2018-19 impact report, celebrating the successes we have achieved over the…

Our Impact 2017-18

In 2018 we produced our first impact report and we made a commitment to produce one every year. Our impact…

A commercial approach to achieve savings

Councils face tough challenges as they seek to reduce costs, continue (and even increase) service delivery and look for ways…

"Crowdfunding: a viable alternative for financing public sector infrastructure?"

At a time when public sector finances are under ever-increasing pressure, crowdfunding has the potential to offer a new model of…
COMMERCIALISATION AND REORGANISATION
RT @lgcplus Last chance to get the special Preview Rate to attend THE conference for councils that are taking climate change seriously. For info call Rochelle 020 3953 2116 EM Rochelle.Clarke@emap.com or visit https://t.co/vBRSzynmQl #ClimateChange #Sustainability #LGA #LocalGov @LP_localgov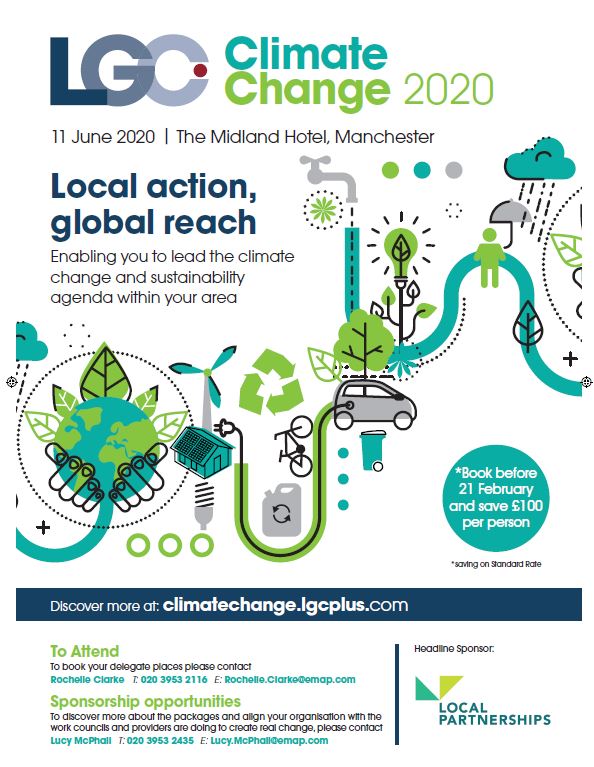 Sign up to our newsletter
To find out more about how we can support you