Local Partnerships already provides services in key climate response areas including energy efficiency, waste, housing, regeneration and growth, air quality, energy, finance, infrastructure, digital transformation and health and social care.
Our support to the public sector is focused on four key areas:
Carbon reduction

Adaptation

Resilience

Climate leadership
Key areas of support provided by Local Partnerships include:
Emissions reporting – review and report on scopes 1 & 2 emissions to standards required by legislation 

Emissions reporting – develop with the client their initial Scope 3 emissions approach, and make recommendations for both projects to reduce emmssions and developing improved reporting in future periods

Greenhouse gas baseline reporting and target mapping to net zero position

Advice on developing viable options and to reduce and offset emissions, including options appraisal

Adaptation strategy – review adequacy of existing plans and support in developing risk assessments and development of adaptive pathways

Resilience planning – test existing emergency planning functions for appropriate climate related emergencies

Identification of barriers to rapid change

Governance – test and report the fitness for purpose of existing governance arrangements for climate emergencies and associated decision making 

Asset review – identifying potential for other uses which could aid climate initiatives – this can extend to support in developing or acquiring new assets

Policy levers – this could include planning policy, HMO licencing, taxi licencing, etc.

Climate leadership advice – including advocacy and practical action plans
Climate Adaptation Toolkit
Local Partnerships has developed a climate adaptation toolkit that is free for local authorities to use.
The toolkit is intended to provide a supportive framework to enable local authorities to develop their risk assessments and adaptation pathways by providing a bridge to the technical information and guidance provided by UKCP18, Department for Environment, Food and Rural Affairs (DEFRA) and the Committee on Climate Change. The toolkit includes a tool to help you match your risk profile to the UK Climate Change Risk Assessment.
Local Partnerships have consulted extensively with local authorities whilst developing this toolkit and we are keen for you to take a look.
Greenhouse Gas Accounting Tool
The Greenhouse Gas Accounting Tool has been developed by Local Partnerships, working with the LGA, to provide a straightforward and consistent approach for councils seeking to calculate their own carbon baseline. While currently local authority reporting on emissions is voluntary, consistent and easy calculation of an annual carbon baseline is an important part of managing the carbon in our organisations.
The tool produces summary tables and charts to help local authorities understand their most significant sources of emissions, which can then be used to prioritise actions to reduce carbon emissions.
Councils are also able to benchmark their emissions with other councils to understand how their performance compares with their peers. To participate in the benchmarking please submit your completed baseline by email to ghgaccounting@localpartnerships.gov.uk.
The Greenhouse Gas Accounting Tool and FAQ has been updated as of 27th April 2022.
The tool has been reviewed by the Carbon Disclosure Project for compliance, and can be used to disclose council emissions data to the CDP-ICLEI Unified Reporting System in the Local Government Emissions section.
The tool is free to use for all councils in England.
In 2021-22 we helped our clients achieve:
Tackling the climate emergency is at the heart of everything we do at Local Partnerships and the dedication and commitments shown by councils to tackle the climate emergency on their own terms is encouraging. We are here to support councils to achieve and progress their climate ambitions at scale and pace.
We supported Cardiff Council to commission a private wire and also provided additional capacity to accelerate delivery of the One Planet Cardiff action plan, which contains projects and initiatives that will support the delivery of net-zero for both the Council and the city.
We worked with the Hertfordshire Climate Change and Sustainability Partnership on engagement, helping the partnership to think about using its role to engage and influence residents and businesses in the county to reduce their emissions. This was formalised in a communications and engagement strategy for the partnership.
We are working with Huntingdonshire District Council to create an evidence based environmental strategy covering both mitigation and adaptation. We have undertaken a review of the council's baseline carbon emissions and created a net-zero trajectory. We have also engaged with officers across the council to build their climate change literacy and consulted with residents to understand their priorities.
We remain a critical friend to Milton Keynes Council on a range of projects. This includes a review of opportunities for the development of a city-wide heat network, identifying potential sites for development of renewable energy and developing the Sustainable Construction Supplementary Planning Document 2021, which has been shortlisted in the new Planning Awards category "Planning to Address Climate Change".
We identified how Manchester City can reduce its carbon emissions by 7,000 tCO2e p.a. by 2025 through the development or acquisition of solar PV capacity. With recent turbulence in energy markets, the Council has developed a secondary aim of providing greater price certainty for their energy purchasing, alongside emissions reduction.
Lewes District Council has been looking to directly support local community energy developer OVESCO in development of a 16MW solar farm. We produced an options appraisal and have been providing ongoing support both to OVESCO in its project development and to the Council's Scrutiny Panel in understanding the associated risks and mitigation, supported by data from Aurora Energy Research. The scheme has obtained and accepted a viable grid connection offer, completed a lease option agreement and submitted a planning application. 
Birmingham City Council needs to improve the thermal efficiency of its housing stock to reduce carbon emissions, reduce energy bills, address fuel poverty, support its levelling up objectives, provide significant local skills and employment opportunities and provide a just transition to a zero-carbon city. As addressing its entire housing stock of 60,000 homes will require significant investment, there is a requirement to explore different improvement options and funding models. We have worked with the council to assess and develop the business case options identified and lead the development of the procurement strategy.
We supported Gravesham Borough Council in establishing a baseline for their Greenhouse Gas emissions and in drafting a carbon budget. We helped the council plot a trajectory to reduce its emissions to zero by 2030 and ran a workshop where we helped it prioritise the actions that will help it achieve this goal.
We provided support to the Office for Low Emissions Vehicles (OZEV) in the production of technical guidance for local authorities in relation to public EV charging infrastructure. We conducted market research for the LGA with local authorities about their role in providing public charging infrastructure, through an online survey and a series of workshops. The findings were published in a report and provided support to the LGA in their discussions with OZEV.
Delivery of the correct charging infrastructure is essential to a successful transition of local authority fleet vehicles to EV. Welsh local authorities have been in receipt of grant funding to support the delivery of EV infrastructure, but many have been experiencing difficulties with both the capability and the capacity to deliver. Our work included the provision of technical modelling (in conjunction with Cenex), direct support to the resolution of high voltage and grid connection issues and a virtual workshop exploring the issues with vehicles which are taken home at night by employees.
We worked with Energy Systems Catapult and Greater Manchester Combined Authority to unlock clean energy investment in Greater Manchester and improve the investment case for future renewables projects. The project seeks to support the development of renewable energy generation projects by developing business models to promote self-consumption of energy by the local authorities and reviewing routes to market for procuring authorities.
We worked with the Energy Systems Catapult (ESC) to support the development of Net Zero Go, a digital platform where local councils can create, plan, operate and manage successful, investable net zero projects. Developed over two years with £1.5million in investment from the UK Government, tools and resources for Net Zero Go were co-developed with local authorities and leaders in local energy. We have specifically supported the development of the procurement platform to assist development and delivery of smart local energy systems.
Hear more from Sarah-Joy Lewis:
Poor air quality is still a significant environmental issue in the UK. 33 towns and cities in England have been in breach of the legal limits for the toxic pollutant nitrogen dioxide (NO2). In 2017, Defra and the Department for Transport (DfT) set up the Joint Air Quality Unit (JAQU) to address this. Since JAQU's inception, we have worked with each local authority identified to develop detailed plans to reduce the NO2 levels in their urban areas.  
Applying public sector business case best practice, we supported local authorities in the development of the commercial, financial and management cases of their air quality improvement plans. We supported them in drafting documents, managing consultants and procuring solutions to meet compliance with air quality targets.
One of the most effective solutions for poor air quality in urban areas is to introduce a charging clean air zone (CAZ), under which the most polluting vehicles are charged to enter particular areas of a city. The first CAZ we supported was introduced in Bath in March 2021. According to Bath and North East Somerset Council, this reduced average NO2 levels in 2021 by 12.6% compared to 2019. The second CAZ became operational in Birmingham in June 2021, and a recent report by Birmingham City Council stated that their pollution levels had dropped by a remarkably similar percentage of 13%. The third CAZ was implemented in Portsmouth in November 2022.
We also supported Bradford Council, Bristol City Council, Newcastle City Council and Sheffield City Council in their plans to introduce a CAZ. Other schemes that we supported under this programme that help deliver cleaner air included the construction of cycle ways, car scrappage schemes, support to bus and taxi firms to upgrade their fleets to electric, bus retrofit incentives and changes to road and junction layouts
For more information about what we have helped our clients achieve, see our 2021-22 impact report.
Domestic Retrofit
Housing retrofit is a complicated and risk-laden challenge, and it is just one of the many actions required to achieve net zero carbon targets in each locality. Meanwhile, net zero is just one priority of the many social economic and environmental priorities each council is facing. Yet we know that without concerted public sector intervention to address domestic energy efficiency, legally binding national and local net zero targets will be missed.
Local Partnerships was commissioned by the Department for Business, Energy and Industrial Strategy (BEIS) via the five Regional Energy Hubs to produce this Local Authority Housing Retrofit Handbook to provide practical advice to local authorities in England. It brings existing resources together in one place and gives a suggested order in which to work through this material.
Emissions reporting and preparation of responses to climate emergency
Local Partnerships is currently working with a number of authorities to develop responses to declarations of climate emergency. We have been working with these authorities to determine their emissions baselines, plot forward trajectories and develop action plans for dealing with greenhouse gas reductions in order to become carbon neutral authorities.
Our recommendations span a wide range of measures from asset reviews to building energy efficiency, utility scale renewable energy generation schemes and air quality measures. We always challenge ambition and look to influence the wider area as well as the authority's own emissions.
Renewable energy and energy efficiency
We support public sector bodies in the development and delivery of strategic regional carbon reduction plans (as part of City Deals and Regional Growth Plans), local renewable energy generation projects (such as wind and solar facilities) and improving the energy efficiency of their estates.
Projects include utility scale renewable energy generation assets (solar PV and wind), building energy efficiency programmes, street lighting programmes and district heating networks.
We can provide insights around grid connection availability and support clients with grid connection applications.
We work with public sector organisations outside London to deliver the National Re:fit Programme, an energy efficiency programme that guarantees substantial financial savings whilst improving the energy efficiency of assets. The Re:fit programme is a procurement initiative for public bodies wishing to implement energy efficiency and local energy generation measures to their buildings or their estate, with support to assist in the development and delivery of the schemes. These measures improve the energy performance of buildings. As a result, carbon emissions are reduced, and substantial guaranteed annual cost savings are achieved.
The framework provides a guaranteed 100% of the energy saving or generation (kWh) via a contractual agreement for the payback period of the project, this key feature is helping to remove risk of failure with new developments, plus protecting the client and their investment.
As part of the Re:fit Programme, Local Partnerships audits participants' energy and carbon data, and helps them establish achievable targets and pathways to those targets. This includes projecting energy and carbon costs into the future and whole-life cycle costing modelling to help with the business case of the kind of large infrastructure projects that will be needed to achieve net-zero carbon targets.
We have worked with Defra and the Department for Transport on the Joint Air Quality Unit's (JAQU) national programme to reduce levels of nitrogen dioxide – a particularly toxic pollutant – in 33 local authority areas. The primary source of nitrogen dioxide is road traffic and concentrations build up in urban areas with heavy road usage and congestion. We helped the affected local authorities develop plans to reduce the most polluting traffic, encouraging people to walk, cycle, take public transport and accelerate the uptake of cleaner forms of transport, such as electric vehicles.
We supported local authorities to develop these complex plans. We provided guidance in areas such as governance, risk management, project planning, finance and procurement. We helped a number of councils to develop outline business cases for their plans.
We support Defra to formulate and assess the impact of policies that have featured prominently in the government's "Resources and Waste Strategy" that lays the foundation for plans to double resource productivity and eliminate avoidable waste of all kinds (including plastic waste) by 2050.
Planning for a future climate
We work extensively in housing, housing infrastructure and renewable energy development, to ensure that schemes are all designed to the highest environmental standards and anticipate the changing nature of the climate in the area.
We have developed a range of strategic tools, covering infrastructure planning and delivery and housing market-making, through our work in other areas (particularly Greater Manchester and Greater Lincolnshire) which can be used to plan and deliver place-based economic and housing growth.
Links:
Jo Wall
Strategic Director – Climate Response
Mobile: 07770 702 386
Today marks @LP_SeanHanson's last day as Chief Executive at Local Partnerships. I'm sure you'll all join us in wishing him good luck and thanking him for the last six years here. 💚🍾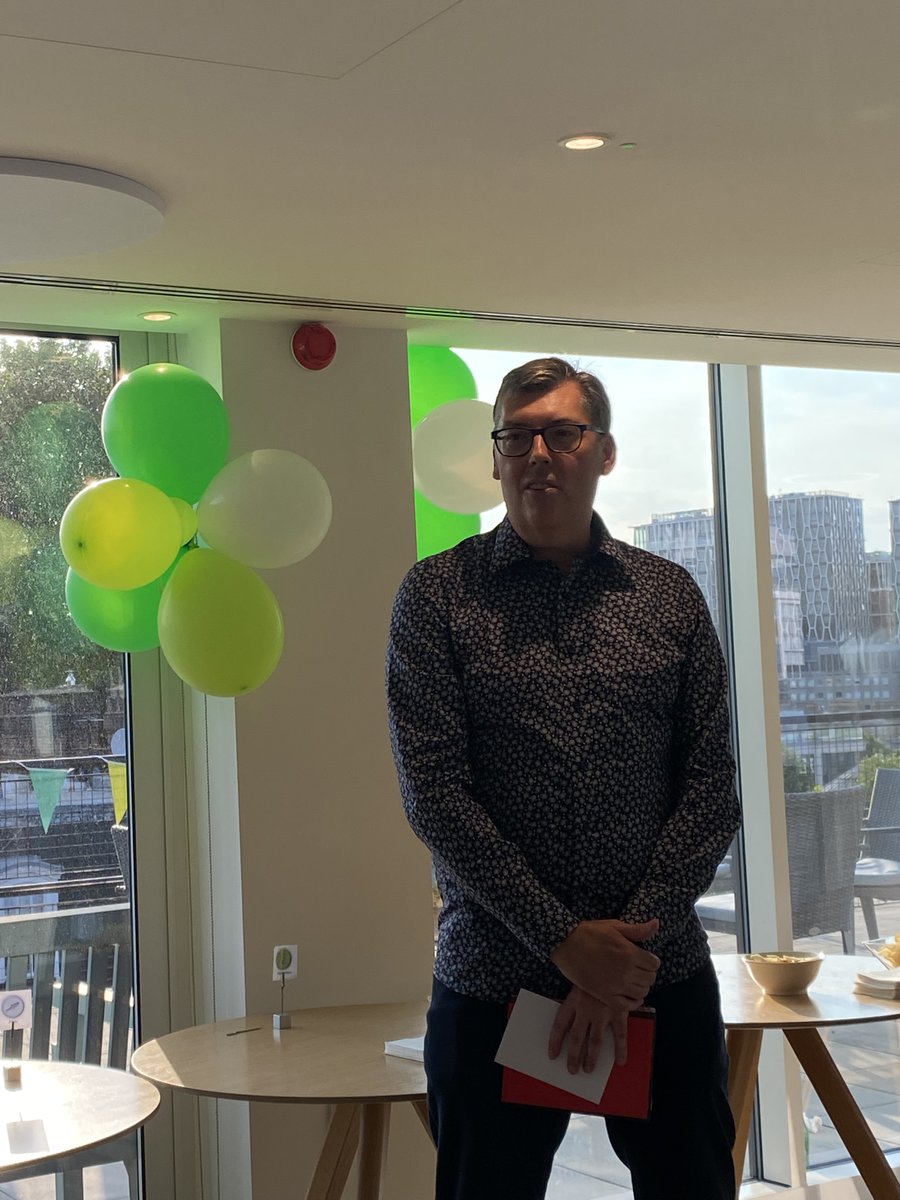 Sign up to our newsletter
To find out more about how we can support you