PUBLICATION: Delivering waste efficiencies in the South West
WRITTEN BY Local Partnerships
POSTED ON 28th May 2020
The ninth regional review focused on efficiencies delivered in waste management in the South West has now been published.
The 2020 annual review focuses on efficiencies achieved by local authorities in waste and resource management in the South West. There are 33 local authorities in the South West: three waste disposal authorities (WDA), 12 unitary authorities and 18 waste collection authorities (WCA). Like all authorities across the UK, they continue to face testing times as resources are reduced but service expectations remain high. Over the next few years delivering efficiencies in budget, whilst trying to protect public services and even enhance them, continues to be one of the biggest challenges local authorities face.
At a conservative estimate – based on authorities that participated in this review and were able to quantify their achieved savings – innovation in the South West has delivered savings and generated additional income in excess of £22 million per annum. This figure includes charging for non-statutory services such as green collection. Securing savings remains a driver for local authorities to achieve efficiencies whilst maintaining high-quality public services, and performance enhancement wherever possible. In addition, addressing climate change has surfaced as a far higher priority for local authorities than noted in previous waste efficiency reports. To view the report click here.
All reports seek to provide examples that will enable others to benefit from authority experiences and best practise, and thereby to consider how the learnings could be applied to their own authority and support them in making their own savings.
The previous eight reviews looked at on the following regions:
For further information on waste efficiencies please contact:
John Enright
john.enright@localpartnerships.gov.uk
07824 371 720
"Local authorities need to plan for the inevitable consequences of a changing climate... 88% indicated they are working on a strategy or action plan in relation to adaptation to climate change." #READ: Adaption to climate change - #LocalGov survey results https://t.co/1uRdXLOqsR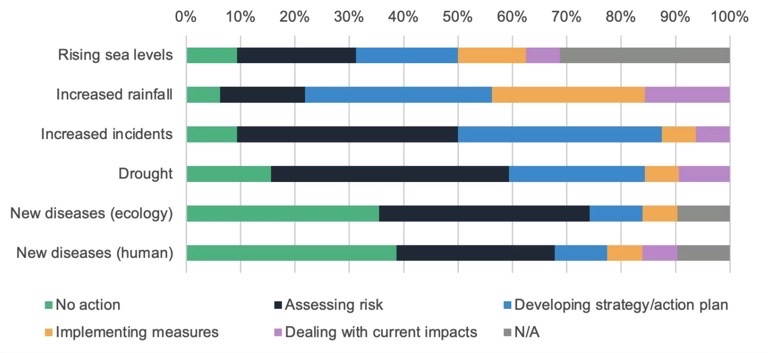 Sign up to our newsletter
To find out more about how we can support you