WE STRENGTHEN THE PUBLIC SECTOR
Local Partnerships is a joint venture between the Local Government Association, HM Treasury and the Welsh Government.
We occupy a unique position in the public sector. We facilitate change by working impartially and collaboratively across all parts of central, local and regional government, and the devolved administrations.
Local Partnerships is proud to be part of the public sector family. We bring public and private sector experience that provides confidence, capability and capacity, helping councils and combined authorities achieve and maintain financial resilience.
We work solely for the benefit of the public sector. Our experts provide trusted, professional support and advice over multiple disciplines, helping you make best use of limited re-sources as demand for services continues to rise. These include:
COMMERCIALISATION AND REORGANISATION
Proudly sponsoring The MJ Awards 2020: "Leadership in responding to the climate emergency" 
The climate emergency affects a wide range of service areas. Developing a response and taking critical steps on the trajectory to net zero carbon require leadership, policy development, bold financial and technical solutions, and adaptation.
This year, as part of our work to support local and combined authorities take practical steps to face the huge challenge of tackling the climate crisis, we have developed, and are sponsoring, The MJ Achievement Awards 2020 new category: "Leadership in responding to Climate Emergency".
The award aims to promote climate leadership and is a great opportunity for local and combined authorities to demonstrate innovation across the areas of energy, industry, buildings, transport, food, and nature-based solutions for the delivery of their targets.
The judges are looking for the best initial response to a declaration of climate emergency. Applications can be submitted by any part of a local authority, or the whole local authority. Entries can include partnership initiatives with other agencies.
Applications are due to close very soon – deadline extended by a week to 7 February!
Our Impact 2018-19
To celebrate our tenth birthday we launched our 2018-19 impact report, celebrating the successes we have achieved over the last year and looking back at those achieved since our inception in 2009.
We deliver national programmes of support, commissioned by central government departments but delivered locally.
Date TBA
CONFERENCE: IDENTIFYING IMPROVEMENTS, DELIVERING SUCCESS CONFERENCE
More information
RT @lgcplus Last chance to get the special Preview Rate to attend THE conference for councils that are taking climate change seriously. For info call Rochelle 020 3953 2116 EM Rochelle.Clarke@emap.com or visit https://t.co/vBRSzynmQl #ClimateChange #Sustainability #LGA #LocalGov @LP_localgov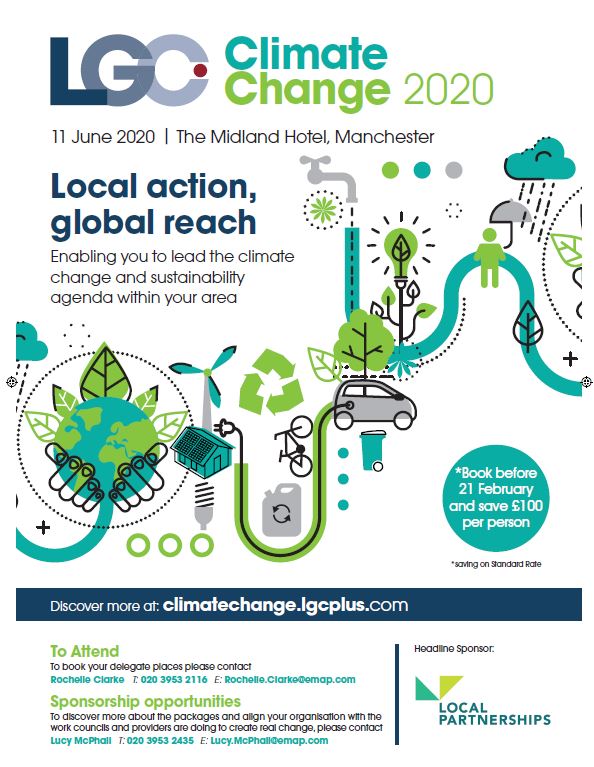 Sign up to our newsletter
To find out more about how we can support you