We're recruiting for a Programme Director to lead our PPP/PFI programme and new Project Directors to join Local Partnerships. We are interested to hear from individuals who can support us in our work across our programme areas, and specifically looking for five Project Directors in the following programme areas:
Project Directors are responsible for the successful delivery of a major stream of business activity for Local Partnerships. Project Directors may work on their own but will more often form part of a team of different specialists undertaking an assignment stretching over weeks or months, or occasionally years, for a client who will typically be a central government department or one or more councils.
Project Directors are assigned to a programme area headed by a Programme Director. While every assignment is different, Project Directors typically bring their professional expertise and project management skills to bear on complex projects and problems and ensure the Local Partnerships' quality standards are met in completing the assignment on time and budget.
Project Directors need to have an understanding of decision-making in the public sector, including the role of elected politicians, in addition to their professional expertise. Almost all assignments involve preparing reports containing complex written and analytical information for the client, so excellent communications skills are vital. Knowledge transfer to the client is a key part of the role.
Project Directors may be based anywhere in England and Wales. They will need to travel to clients' offices around the country.
Current vacancies are:
The Programme Director – PPP/PFI is responsible for the successful delivery of a major stream of business activity for Local Partnerships. The Programme Director may be asked to take responsibility for a single major programme or a portfolio of projects that constitute a programme with similar characteristics, goals and outcomes. We work across all aspects of PPP and PFI projects and programmes, working across central and local government and other public sector entities.   
The Programme Director is responsible for delivering and developing their dedicated programme areas; providing line leadership within the projects and programmes; successfully managing income and expenditure; managing time recording, utilisation and billing; and ultimately, ensuring that clients are highly satisfied with the outcomes from the projects and programmes under their control.
The job specification for the Programme Director is here.
Closing date: 26 August 2019
Apply here: https://www.jobtrain.co.uk/lga/displayjob.aspx?jobid=814
Gren Folwell, high-profile public sector figure and former Board member of Local Partnerships has sadly passed away Read our statement here: https://t.co/QkI2EEdo8J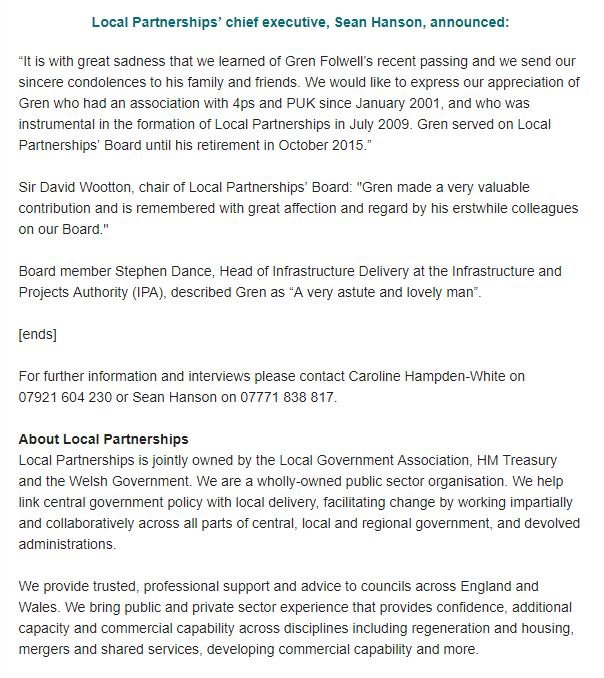 Sign up to our newsletter
To find out more about how we can support you