Martin Forbes
Strategic Director, Local Government
Martin spent the first 13 years of his career within Big 4 consultancy and corporate finance teams, working mainly with local authorities on major commercial service and investment partnerships, before joining Local Partnerships in 2009. Since this time, Martin has been heavily involved in helping the sector respond to the significant challenges and opportunities that it has faced in terms of;
• Efficiency – established the West Midlands Property Alliance, a unique collaboration of West Midland Authorities seeking to drive efficiencies and capital from their operational estates.
• Reform – played a key supporting role in the development of the ground-breaking public service reform programme in Greater Manchester
• Investment – worked with a number of local authorities across the East Midlands and East of England to model alternative finance options for investment in key transport infrastructure
• Devolution and restructuring – led the financial and structuring advice to authorities in Dorset, Kent and Devon wishing to explore alternative local government models as part of devolution discussions
• Commercial – led the production of a range of business cases for councils around the country wishing to invest in energy, housing and social investment as part of their commercial led strategies.
Martin is a CIPFA accountant and holds an MSc in Urban Regeneration.
Gren Folwell, high-profile public sector figure and former Board member of Local Partnerships has sadly passed away Read our statement here: https://t.co/QkI2EEdo8J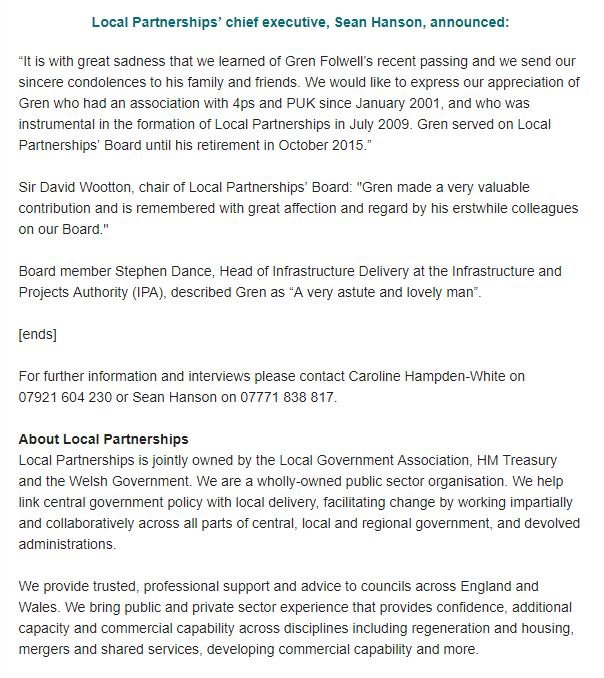 Sign up to our newsletter
To find out more about how we can support you