Anne Jarrett
Strategic Director, Health & Social Care Integration
Anne has worked extensively throughout her career with public service provision and particularly the health and social care sectors delivering projects with, and for, the NHS, central and local Government and the Third Sector. The common focus has been to support the design and delivery of high quality, innovative services that are responsive to the needs of the user and maximise the value of public resources. Anne brings a wide range of planning, analytical and communication skills to support the public service reform agenda. This includes service evaluation, options' appraisal, business case development, performance and impact management, stakeholder engagement and the facilitation of collaborative working across agencies.
Anne has been with Local Partnerships since its inception and her work in recent years has included taking lead responsibility or a senior role in projects associated with:
– Supporting the development and sustainability of public service spin-outs
– Increasing the commercial capability of third sector organisations, including "contract readiness"
– Co-management of the DH Social Enterprise Investment Fund (SEIF)
– Design and management of the DH and Big Society's Capital Technology Spin-out Fund
– Structure and governance of Health and Wellbeing Boards
– Development of impact measurement and management systems
– Inter-agency planning for new systems of integrated health and social care
– Options appraisal for alternative service delivery models
Anne leads on Local Partnerships' work as part of the national Better Care Fund Support Programme. She is an experienced project manager and an accredited Gateway Reviewer.
Gren Folwell, high-profile public sector figure and former Board member of Local Partnerships has sadly passed away Read our statement here: https://t.co/QkI2EEdo8J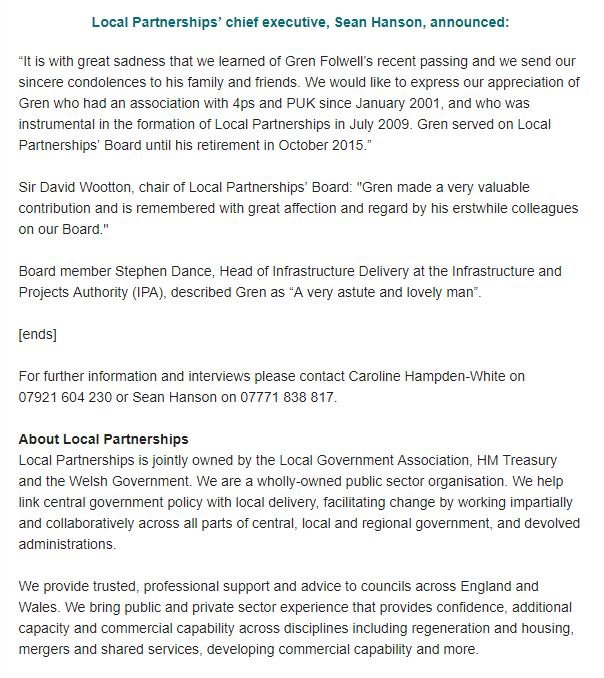 Sign up to our newsletter
To find out more about how we can support you